Enjoy an array of top quality on-site activities & facilities at Gleeson's Holiday Park!  Gleeson's is a wonderful place for both relaxation and fun activities for all the family.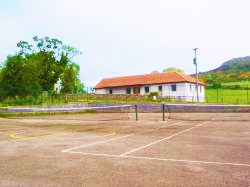 With tennis courts & a Par 3 9-Hole Pitch & Putt course on-site, you won't even have to leave the grounds to find something interesting to entertain you or the kids!  We also have a games room with 2 pool tables and air hockey and football tables.
For swimmers and watersport enthusiasts the beautiful Clogga beach is just a couple of minutes stroll away via our very own private beach entrance. This secluded and picturesque stretch of coastline provides the perfect spot for swimming, kayaking, SUP (Stand Up Paddle) boarding and more.
Clogga beach is clean & safe and ideal for swimmers with a gentle slope out to deeper waters due to the sand banks. It's also a great location for picnics with the family. The natural beauty of the area make seaside walks a pleasure whatever the weather.
The scenic setting of Gleeson's Holiday Park is also ideal for artists who enjoy painting and sketching outdoors. With a variety of backdrops and inspiration right on your doorstep, from lush, green countryside, horses & farmland to sea views and sandy beaches, Gleeson's location boasts a wide range of painting & sketching opportunities for both budding & established artists.
For more practical day-to-day activities, we have a convenient on-site launderette with a large washing machine and a large tumble dryer.  A token is required to use the machines at a cost of €6 per wash and €7 per dry.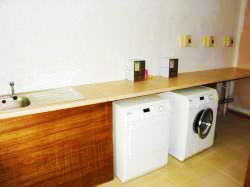 All facilities are for members and residents only.
For more information email info@gleesonsholidaypark.ie or call us on: (0402) 31236.